Introduction to Live Streaming
In the digital age, where everyone and everything is connected, the ability to stream live video has become a game changer. Whether you're a content creator, a small business owner, or just someone looking to stay in touch with loved ones, there's a live streaming app out there that fits your needs. The question is, which one?
Why Live Streaming is Important
For Individuals
Live streaming allows individuals to connect and engage with their followers in real time. It's a powerful tool for personal branding, as it offers a more authentic and humanizing way to share your story and experiences. But live streaming isn't just for influencers or vloggers. It's also for anyone who wants to share important moments with their network or the world at large.
For Businesses
From webinars to product launches, live streaming is now an integral part of a business's marketing strategy. It boosts brand awareness, fosters community, and drives engagement. In fact, video analytics can significantly improve your social media video content, making it an investment that delivers real returns.
Features of a Good Live Streaming App
When selecting a live streaming app, you should consider the ease of use, the quality of streams it can produce, the size and activity level of its community, its cost, and the features it offers. Some apps, for instance, allow you to stream on multiple platforms at once, while others have advanced chat options, like polls or Q&A features, that can enhance viewer engagement.
Top Live Streaming Apps
Facebook Live
Facebook Live is one of the most popular platforms due to its massive user base. It allows you to live stream directly from your profile, page, or group, and the videos are saved to your timeline after the live stream ends. This feature is great for businesses looking to grow their audience and maximize engagement.
Instagram Live
Instagram Live is perfect for casual and spontaneous live streams. It's integrated into Instagram Stories, so your followers get notified when you go live. It also has an interactive feature where viewers can comment and react in real time.
YouTube Live
YouTube Live offers high-quality live streaming that's ideal for events, webinars, and professional broadcasts. It also enables monetization options, such as Super Chat and channel memberships, making it a good option for content creators. Learn how to embed YouTube Live videos on your website.
Twitch
Twitch is the go-to platform for live streaming games. It has a tight-knit community and a multitude of features designed for gamers. It's not just for gaming, though – there's also a growing number of streams focusing on music, art, and talk shows.
LinkedIn Live
LinkedIn Live is particularly useful for businesses and professionals who want to share industry insights, company news, or host interviews. Since LinkedIn is a professional network, the content streamed here tends to be more business-focused. Check out this blog post on how to grow your audience with live streaming on LinkedIn for some useful tips.
Tips on Choosing the Right Live Streaming App
When choosing a live streaming app, it's crucial to consider your specific needs and goals. If you're a gamer, Twitch may be your best bet. If you're a business professional looking to share industry knowledge, LinkedIn Live may be more up your alley. Consider your target audience, the type of content you'll be streaming, and the features you need. Moreover, take time to explore the platform, familiarize yourself with its features, and get to know its user base. Remember, the best app is one that aligns with your content strategy and helps you reach your desired audience.
How to Maximize the Use of Live Streaming Apps
Regardless of the platform, there are several strategies to maximize the use of live streaming apps. Engage with your audience by responding to comments during the stream. This kind of interactivity boosts audience engagement. Planning and promoting your live streams in advance can also help build anticipation and increase viewership. Additionally, consider streaming consistently to keep your audience engaged and coming back for more. Finally, take advantage of the unique features of the platform you choose.
Conclusion
Choosing the right live streaming app can significantly impact the reach and effectiveness of your live broadcasts. Whether you're an individual trying to connect with followers or a business aiming to amplify your brand, understanding the various platforms and their unique features is key. Happy streaming!
FYI: You can embed Facebook Live automatically with the EmbedVidio platform. Start a free trial and display your social media video widgets now.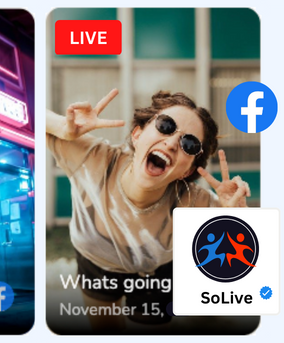 Embed live video feeds on your website automatically!
Try EmbedVidio and automatically add Facebook, YouTube, and Twitch live video feeds to your website.
All features included with every plan