The Power of Pinterest Videos
Pinterest is no longer just an image-sharing platform; it's a dynamic visual discovery engine that bridges the gap between information and inspiration. It's not just about static images but also engaging video content.
Reasons to Embed Pinterest Videos on Your Website
Enhancing User Experience
Including videos on your website can significantly enhance the user experience. They can effectively explain complex ideas or processes, offer a glimpse into your company's culture, or provide a deeper understanding of your product offerings. In a more specific sense, Pinterest videos add a touch of creativity and originality, which can enhance web design and user experience.
SEO Advantages
In the age of digital marketing, search engine optimization (SEO) is a non-negotiable strategy. Videos, specifically Pinterest videos, can contribute to SEO benefits. As Google considers user engagement metrics when ranking pages, including an interesting video can lower bounce rates and increase time-on-site metrics. Plus, Pinterest videos provide an opportunity for additional keyword optimization through their descriptions and tags. Don't forget the importance of video transcription for SEO.
Boosting Engagement
Video content, especially from sources like Pinterest, has a high potential to boost engagement. This is due to the emotional connection videos can create, leading to increased shares, comments, and overall interaction.
Step-by-Step Guide to Embed Pinterest Videos on Your Website
Incorporating Pinterest videos into your website can significantly enhance the user experience. Here's a more detailed step-by-step guide to doing so effectively.
Finding the Right Pinterest Video
To reap the maximum benefits of Pinterest videos, it's crucial to choose the right content. Make sure to choose a video that resonates with your brand, your message, and your target audience. The video should also align with the content of the webpage where it will be embedded.
Begin by navigating to Pinterest and conducting a keyword search related to your brand or content. Scroll through the options, watch potential videos, and determine which one aligns best with your brand's message and webpage content. Remember, the video should provide value to your website visitors and engage them enough to keep them on your website longer.
Generating Embed Code
Once you've found the perfect Pinterest video, it's time to get the embed code.
Click on the video to open it in a larger view.
Look for the three-dot button located at the upper right-hand corner of the video. Click it to reveal a dropdown menu.
In the dropdown menu, click "Get embed code." A pop-up window will appear with the HTML code for the video.
Right-click on the code and click "Copy" or use the keyboard shortcut Ctrl+C (or Cmd+C for Mac users) to copy the code. Make sure you copy the entire code as missing even a single character can lead to the video not displaying correctly.
Embedding the Code on Your Website
After obtaining the embed code, the final step is adding it to your website.
Navigate to the backend or the editor view of your website where you can see the HTML code.
Go to the section of your webpage where you want to embed the video.
Paste the copied code into the HTML editor of your webpage. Right-click and select "Paste" or use the keyboard shortcut Ctrl+V (or Cmd+V for Mac users).
Save the changes you've made and refresh your webpage. You should now see the Pinterest video embedded in your site.
Best Practices for Embedding Pinterest Videos
Optimizing Video Thumbnails
Visual appeal is key to attracting viewers. To catch the user's attention, the video thumbnail should be enticing and relevant to the video content. Learn more about creating eye-catching thumbnails.
Video Transcription for SEO
Transcribing your Pinterest video can enhance its SEO value. It enables search engines to understand the content better, thus improving visibility. Here's more on video transcription for SEO and accessibility.
The Impact of Pinterest Videos on User Engagement and Conversions
There's no denying that video content is a game-changer in driving user engagement and conversions. Pinterest videos, particularly, help to foster a deeper connection with users, thanks to their creative and visual nature. They tell a story, engage the senses, and make your content more relatable and shareable. This enhances user interaction, drives traffic, and can significantly boost conversion rates.
FAQs
Why should I embed Pinterest videos on my website?
Embedding Pinterest videos can enhance user experience, improve SEO, and boost engagement. They offer a visually appealing way to share content that can drive more traffic and improve conversion rates.
How can Pinterest videos enhance user experience?
Pinterest videos add a creative and dynamic element to your website content. They can explain complex ideas more simply and effectively, provide insight into your company culture, or give a deeper understanding of your product offerings.
How do Pinterest videos contribute to SEO?
Pinterest videos provide opportunities for keyword optimization in their descriptions and tags. Also, interesting video content can lower bounce rates and increase time-on-site metrics, which Google considers when ranking pages.
What steps do I need to follow to embed Pinterest videos on my website?
The process involves finding the right Pinterest video, generating the embed code from Pinterest, and embedding the code into the HTML of your webpage.
What are the best practices for embedding Pinterest videos?
Optimizing video thumbnails for visual appeal and transcribing your videos for SEO are among the best practices for embedding Pinterest videos.
Conclusion
Pinterest videos are more than just entertaining content; they're valuable tools for enhancing user experience, boosting SEO, and driving engagement. With the right approach, they can significantly contribute to your website's success. So don't miss out on the power of Pinterest videos - start embedding them on your website today.
FYI: You can embed YouTube Live automatically with the EmbedVidio platform. Start a free trial and display your social media video widgets now.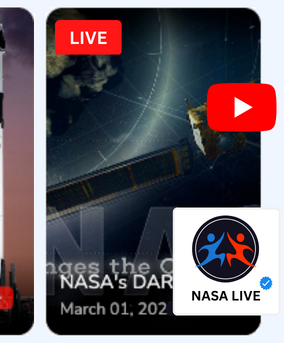 Embed live video feeds on your website automatically!
Try EmbedVidio and automatically add YouTube, Facebook, and Twitch live video feeds to your website.
All features included with every plan